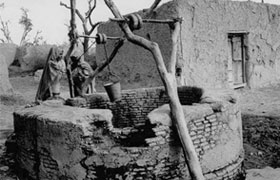 Intoduction - Punjab is land of five rivers in North West India and North East Pakistan. Punj means five and aab means water, so Punjab means five waters. These five rivers named Beas, Satluj, Ravi, Chenab and Jhelum. Beas, and Satluj . These five rivers divide the state into three regions : Majha, Doaba and Malwa. Punjab enjoys the natural benefits and fertile soil the gives good cultivation.Punjab is the oldest cultivation on the earth and with its distinguished language, culture, food, attire, script, folklore, people, etc. Punjabi language has its originating source in Sanskrit (not Hindi or Urdu as many young Indian Pakistanis believe), i.e. the family of Indo-European group of languages which includes Persian and Latin. Punjab has always been land of great saints and fighters.
Tourist places - Punjab is the place of Sikhism . The holiest of Sikh shrines, the Sri Harmandir Sahib (or Golden Temple), is in the city of Amritsar . The five Takhts (Temporal Seats of religious authority) of Sikhism, three are in Punjab. These are Sri Akal Takht Sahib, Damdama Sahib and Anandpur Sahib. Punjab is one of the leading states of India in terms of infrastructure . It is also known for its sports and hosiery goods industry. Enjoy the unparalleled hospitality and warmth of the natives .Some of the leading tourist attractions in Punjab are: Amritsar- Golden temple , Jallianwala bagh, Wagah Border, Maharaja Ranjit Singh Museum, Patiala - Sheesh mahal, Quila Muabrak , Moti Bagh Palace, Kali devi Temple , Chandigarh- Sikh Ajaibghar, Sukhna lake, Rock garden , Rose garden etc.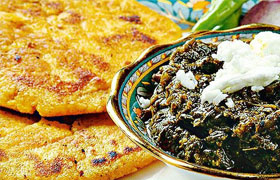 Cuisine Of Punjab – The cuisine of Punjab has great variety of mouth-watering vegetarian as well as non vegetarian dishes. In Punjab, home cooking is different from the restaurant cooking style. At the restaurants use desi ghee, butter and cream to make the food lip smacking and finger licking. On the other hand, at home, people prefer using sunflower oil or some other refined oil for cooking, with the basic idea of making the food low in fat content. The main Traditional Punjabi food are - Sarson ka saag, Shahi paneer, Dal makhni, Rajma, Chole, Aloo, Chicken karahi, Chicken Tandori, makki di Roti, Naan, Phulka, Puri, Papad, Lassi, Kheer, rabri.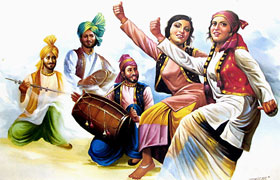 Culture and Tradition of Punjab – The culture of Punjab is the richest culture in the world. Punjabi songs are full of melody and energy. The dance styles of Punjab has more flavor with its bhangra, giddha, kikli and sammi.Bhangra" is one of the most famous dance forms of Punjab. With the loud drumming of the dholak, people dance with zeal to the tunes of the music. "Giddha" is another important variant of dance practiced by Punjabi women. Bolis are lyrically sung and danced by women. Other popular dance forms are Jhumar, Dhankara and Gatka. Irrespective of age or religion, Punjabis love to dance and enjoy themselves to mark festivity. Folk music is the soul of Punjabi culture. Folk music comprises of simple musical instruments like dholak and dhol drum. Punjabi music relates to the zestful people of Punjab.. Boliyas are sung and music is played in tune with the lyrics. Punjabi songsat the wedding range from emotional interludes to very peppy beats, where there is a constant chiding of the bride and groom. A sense of humor is essential to enjoy the wedding songs.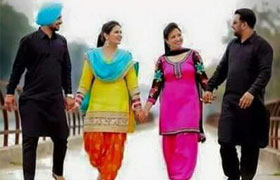 The traditional dress of people is Kurta-pyjama with turban for men. Women prefer Patiala suits as part of their traditional attire. There is a riot of colors in the pagdi-turban and phulkari dupattas, that comes out during the Baisakhi festival. The traditional dress of the Punjabis comprising of the salwar-kameez for women and lehenga-kurta with a waistcoast has many colors and styling. Turban styles can be explored and is compulsory for all Sikhs.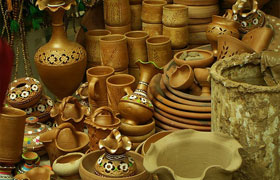 Art and craft of Punjab - Punjabis are renowned for their utmost interest in arts and crafts. Many phrases have decorative designs and handicrafts. Women used to weave woolen attire for everybody in the family. "Phulkari" is recognized worldwide for its intricate work. Shawls in silk are carefully hand-woven using traditional motifs as designs. Other famous crafts of the region include lacquer work, wooden work, Calico painting, paper mache` and many more. Wooden furniture is beautifully crafted by artisans with exquisite craftsmanship.