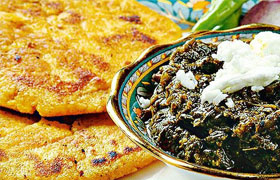 Punjabis are big-time food lovers, preferring a wide variety in their menu. They are full of life and their food too reflects this liveliness. Punjabi food forms an important part of the North Indian cuisine, which appeals to the taste of many. The people in this state generally go for spicy foods and use oil and ghee to a considerably higher extent. There are no intricate marinades or exotic sauces, but an exuberant use of masalas, with a liberal addition of oil or ghee. The people of Punjab prefer wheat to rice; though they do have rice occasionally. In roti itself, you find such a wide variety that you are left to wonder about Punjabi cuisine's versatility. Makke ki Roti (chapati made of corn) and stuffed paranthas have wide popularity. Milk and milk products are also commonly used by the people here. Curd and butter milk are important concomitants of a Punjabi meal. Lassi, made out of curd, is a popular drink of Punjab, which satisfactorily quenches the thirst in summers.
One can easily notice a disparity within Punjab, as per the choice of food. For instance, the people in Amritsar go for stuffed paranthas and milk products, whereas Malwa inhabitants prefer bajra khitchdi more. One thing that runs common throughout the Punjab is the wide use of onion, garlic, ginger and tomatoes, as the common masala for most food items. People also regularly use garam masalas like cardamom, cinnamon, mace and bay leaf in their food preparation. Besides they usually garnish their food with finely-cut coriander leaves and juliennes of ginger.
The Punjabis are known for their rich foods. Predominantly wheat eating people, the Punjabis cook rice only on special occasions. Nans and parathas, rotis made of corn flour (makke di roti) are their typical breads. Milk and its products in the form of malai (cream), paneer (cottage cheese), butter and curds are always used with almost every Punjabi meal. The main masala in Punjabi dish consists of onion, garlic, ginger and a lot of tomatoes fried in pure ghee. Spices like coriander, cumin, cloves, cinnamon, cardamom, black pepper, red chili powder, turmeric and mustard are regularly used. Chicken especially 'Tandoori Chicken' is a favorite with non-vegetarians as paneer is in the vegetarian Punjabi menu. Mah ki Dal, Sarson Ka Saag, meat curry like Roghan Josh and stuffed parathas can be found in no other state except Punjab.
Popular Delicacies
The food items that form a part of the traditional food of Punjab are so eye-catchy that you can hardly resist your temptation to taste them all. Some of the popular delicacies in the state have been listed below:
Vegetarian Dishes
Sarson ka Saag (Mustard leaves curry)
Dal Makhani/ Dal Handi (curry of pulses)
Choley (generally eaten with Naan)
Punj Ratani Dal (a mixtute of 5 lentils)
Kadhai Paneer
Shahi Paneer
Sheer Korma
Non-vegetarian Dishes
Tandoori Chicken
Butter Chicken
Bhuna Ghosht (dish made of lamb)
Kebab
Amritsari Fish
Tandoori Fish
Fish tikka
Chicken Biriyani
Malai Tikka
Bread & Flour Preparations
Punjabi cuisine is also famous for variety of bread and flour preparations. Some of them are as below:
Naan
Tandoori Roti
Kulcha
Lachha paratha
Phulka or chapatti
Aloo paratha
Mooli paratha
Poori
Bhatoora
Desserts
Punjabi cuisine is incomplete without the flavor of its special desserts. One of the very delicious items in their menu is called roh di kheer, which is prepared by cooking rice in sugarcane juice for a long time. Besides this, there are more of Punjabi desserts, like:
Rice Kheer
Jalebi
Malpura
Rabri
Sewiyyan
Gulab Jamun
Zarda
Firnee
Gaajar Halwa
Sooji Halwa
And the list of Punjabi foods continues. Thus, we see there is so much to taste in the cuisine of Punjab. Already feeling the temptation to taste all of them? What are you waiting for? Fly to Punjab and enjoy its diverse and spicy taste; but take care that your stomach doesn't pay heavily for your temptation!